Heads, Shoulders, Knees and Cows!
Sorry it's been such a long time since we last spoke but I have been ridiculously busy! I have been up to my armpits in rotations for the last 6 months and I have loved every minute of it –well almost!
As you will be aware if you are a regular reader of this little blog of mine, I have looked forward to the final year of the BVet Med course since the day I started a lifetime ago in 2008. Well, it has not disappointed – until I started the anaesthesia rotation. I had been dreading this particular rotation for a few weeks leading up to it because it requires what feels like Einstein level mental arithmetic and lightning fast reactions with the CORRECT drugs in an emergency – so you can probably understand why I was apprehensive on the first Monday morning of the 2 week rotation.
Normally I get myself all worked up about something and it never turns out to be as bad as I thought it was going to be. Well not so with anaesthesia, in fact it was worse. I had a terrible first day as I was thrown in to monitor the anaesthesia for a huge surgery that was due to start in ten minutes – great, plenty of time for my dyslexic brain to get around what was expected of me – NOT! So there I was sitting next to a lovely dog fast asleep under general anaesthesia and staring at different colour lines and numbers on a TV screen in front of me. Anyway after a five hour surgery I thought I had managed to cope quite well, given that the dog recovered fine from the anaesthetic. The week continued to go downhill as I was paired with grumpier and grumpier people. I was very unhappy by the end of the week and I was convinced I was going to lose my sanity (that's the head bit of the title!). However, I am glad to report that after a good old rant (and cry) over the weekend I had a better second week and somehow passed the rotation – wonders will never cease!
Well with just 6 short months until I hit the dreaded FINALS I am intending to enjoy the time I have left as a student because I have recently become acutely aware of what is going to happen in July. As students we are somewhat cosseted from the big bad world in that whilst we take a large and active role in the care of patients we are not ultimately responsible for what happens. It is frightening to think that until the 3rd of July the responsibilities will continue to pass to someone else but 24 hours later that responsibility for all my patients will be squarely on my shoulders!
One Saturday afternoon about 3 months ago I was coming home from walking my dog when my friend who is a dairy farmer called asking for help to calve a cow. So off I popped and met him in a barn where a heifer was standing in knee deep fresh straw with a tip of a calf's nose protruding from you know where. We got the calving jack attached to the calf's feet and as we started ratcheting in time with her contractions she decided this was the time to lie down and as I was conveniently positioned on the wrong side of the calving jack she took me with her. This would have been fine if it wasn't for the fact that I was stood knee deep in straw and couldn't move my feet fast enough and so as my body went with the cow, my legs from my knees down stayed firmly where they were, suffice to say that I heard an alarmingly loud pop from my right knee as it did so. I didn't have time to stop but when all was done and I was walking back to the car I was intensely aware of a throbbing in my right knee and by the time I got home I could barely bend my leg. I persevered until I could stand the pain no more and took myself off to the Minor Injuries Unit at 8am the following morning where I was informed I had partially torn my medial meniscus in my knee. The 'treatment' was 6 weeks of rest – as if that was going to happen.
I dosed myself up with painkillers and got on with it safe in the knowledge that I would have one of those exciting stories about an old injury to tell my grandchildren – though I always hoped it would have involved me running for my life from a rhino in Africa – I guess there's still time!
Also this semester I visited Bristol vet school for my abattoir placement (enough said about that I think – except to say I was very impressed with their level of animal welfare). I have also just submitted my dissertation. I was helping Dogs Trust assess why some dog adoptions fail and what we can do to reduce them. My word, how did I fit all that into just a few months?
Well, I will leave you in peace and hopefully I'll have at least one more article for you to enjoy before I graduate as a fully-fledged vet – eek!
Dogs, TV and Graduation!
And so it is with mixed emotions that I have to say this is the end of my Road to Vet School. I am sad as I have dearly loved writing these little articles and have found the whole process very cathartic at times. But also happy in respect of the fact I have come to the end of my journey to, and indeed through, vet school! So let us wrap up this little adventure before moving on to the next one.
I completed a rotation that I had specifically asked to do which was in the neurology department and I LOVED it! Animals are amazing – they never cease to surprise me. We had some patients with very serious neurological injuries that had undergone some ground breaking surgeries and yet so many took it all in their stride as if nothing happened. My favourite patient was Holly who had fallen off a cliff and broken her back – we put some pins and cement in her spine and by the next day she wanted to chase her tennis ball! I say she wanted to but obviously was not allowed to.
Dogs are amazing as they seem not to have the same emotional baggage as we mere humans do. This particular dog was a Border Collie and she was a stubborn moo frankly – which endeared her to me even more. She did not sit in the ward feeling sorry for herself or looking for sympathy she simply did what dogs do which is get on with it, and that is wonderful to see.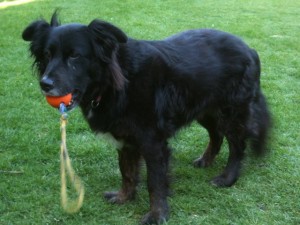 My favourite part of the rotations was forming a bond with my patients but this was a double edged sword at times. Particularly in neurology where some patients required very intensive physical therapy a good relationship with the patient can make the difference between them going home or not. Sounds overdramatic but let me explain. Some dogs will feel defeated after major surgery, some will let you do all the hard work and yet others will want to jump straight off the operating table the minute they wake up. It is a skill to know what type of dog your patient is and how to best respond to it, stubborn dogs require assertive handling, and scared dogs require patience and time whilst excitable dogs require a calming influence but all require positivity and love.
A strong bond can encourage a dog to try harder because they depend on you and it also makes it easier to care for them as they trust you. Yet on the other hand I did succeed in creating come 'monsters' as the nurses affectionately called them – these are dogs that practically screamed at me to come and cuddle them whenever I walked into the wards because I had spent so much time with them during their rehabilitation – fine for me but not fun for the nurses that had to endure their cries when I wasn't around – sorry!
And so we came to finals. I have never been more scared than when I was waiting to see my exam results online – you could have heard a pin drop in the room. I was pacing the house from 4am whilst squeezing my 'stress cow'! The relief of passing was immense. Graduation was in Westminster, London and it was a fantastic day. So proud of all my colleagues and yes I cried when I said my oath and was admitted into the Royal College of Veterinary Surgeons. It was the culmination of a lifetime of struggle, strife and self-doubt that resulted in my dream coming true – I was a vet…..finally!
The absolute undeniably BEST thing about my time at vet school was taking part in a BBC 2 TV programme called Young Vets! I am not a risk taker, but when an email was sent to all final year students asking for volunteers for a programme I thought, well why not? I never thought I'd actually get chosen to be honest but I did and what a ball it was. I was followed around by two crew members for a whole year; they filmed the good times, the bad times, the confusing times and the upsetting times! I honestly think it made the whole process of rotations much more bearable and fun – having two unswervingly happy people accompanying me through every day was comparable to having my very own cheer leaders! They shared every moment of my rotations and I hope remain lifelong friends of mine.
The show Young Vets aired in the UK in August 2014 and ran for ten hour-long episodes and I have to say the crew did a sterling job. The show was fantastic and portrayed the life of a final year vet student perfectly. I would do it again in a heartbeat!
Anyhoo, that's probably enough from me after all these years. I hope the insight I have provided into vet school has not scared potential vet students and has inspired some people to aspire to striving for their dream whether you want to be a vet, a mechanic or an astronaut – go for it!
Thank you for reading my little ditties and I wish you all the very best of luck in all your ventures and hope we meet again……………………………..