In my job I encounter some great products which I end up recommending because they can have such a good impact on the welfare of our pets.  It seemed sensible to actually make a page about them to spread the word a bit more. I'm sure the page will expand with time but I thought I'd kick things off with some of the things I talk about the most. There are links to websites where you can find out more and buy them if you think they would enhance the lives of your pets (and you!).
Feliway and Feliway Friends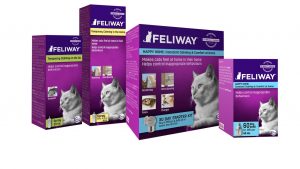 I used to be the vet for the Richard Bacon show on BBC Radio 5 when they had their brilliant 'Help!' section. It was great fun and always threw up a fantastic variety of questions ranging from cooking to stain removal, gardening to my area, animals. A friend of mine who is a horse vet used to listen when he was on his rounds and said that all I used to recommend was these pheromone diffusers! He said it was my answer to everything. The fact is that vets are often presented with unhappy cats who are stressed, fighting or scared. Cats' behaviour is massively misunderstood and when they start spraying and territory marking their owners are understandably a bit irked. Cat behaviour is a really complicated subject but the fact is that Feliway diffusers and sprays can actually make a huge difference to lots of cats. The normal diffusers release a pheromone that makes your cat feel comfortable and safe. Don't worry, you won't smell it! The company have also just launched Feliway Friends which works slightly differently but is aimed at multi-cat households where the cats may not be quite as good friends as their owners might like. Have a chat with your vet about these products or go to the Feliway website for more info. Feliway information leaflet
SureFlap cat flaps and feeders.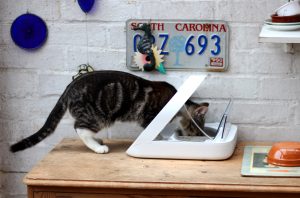 As an advisor for Hill's medical diets I end up talking about cats a lot every day. Lots of cats that live with other cats can struggle with stress and things like bladder problems. In houses where the cats seem to get along there are often times where cats might ideally need different foods. For example a kitten on kitten food and an older cat with kidney problems that really shouldn't be eating kitten food and needs a medical diet to help prolong life.
Lots of owners really struggle to separate their cats to feed them. SureFlap make feeders that read the microchips of your cats so that only the animals you want to have access to that food can do so. The bowl stays shut if any other animals get to it. It's also a big bonus for those of us who've had dogs and cats and the dogs keep stealing the lovely cat food! They now also make a sealed bowl that is motion activated. It won't select which pets can eat from it but it does keep food fresher for longer and also keep the flies off.
The microchip cat flaps are also a great help for cats that are being bullied by cats coming into the house and for those of us that don't like collars on cats they are an easy way to let the right cats and only the right cats into your house.
You can find out about and order all their products at SureFlap
ProtectaPet Cat (and dog) Enclosures.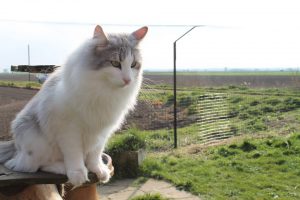 I am a massive advocate of cats getting outdoors. When I talk to vets and nurses about stress-related problems in cats they are often multicat households or indoor cats. Cats have natural instincts to explore a wide territory and can feel bored and frustrated when kept indoors all the time. Sometimes people keep them in because they are near a road or are worried about them getting out of the garden. This year at the National Pet Show I met the lovely owner of this company and love the idea behind them. They make various enclosures for keeping your cats safe in your garden. Giving your cats the choice and freedom to go out is always a bonus. They can engage in normal behaviour, get more exercise and enjoy the odd glimpse of sunshine but stay safe at the same time. Everything you can do to enrich your cat's environment will improve happiness and, in the longer term, keep them healthier too.
You can find out more at ProtectaPet.