I tend to be a bit serious when it comes to work. Over the years I've been involved with lots of welfare stuff and seen some sights that have broken my heart. I've spent a lot of time ranting about various subjects like tail-docking, pedigree health and hunting. SO, it was brilliant this year to get asked to do something a bit more light-hearted. I could have told you before hand but I would have had to kill you!
April the 1st marked the first day of National Pet Month this year so it didn't seem too strange to be doing a day of radio interviews about animals. The subject was a little different from usual though.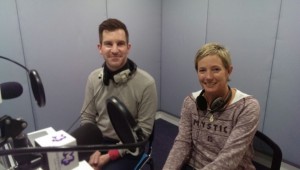 SunLife insurance launched the first ever courtesy pet service. You get a courtesy car when your car is being repaired so why not have a courtesy pet when yours is at the vets for a few nights? With their new algorithm, PetMatch you can upload all your pet's characteristics and PetMatch will find you a pet with at least one of the same characteristics.
My job was to be the vet supporting the initiative and we talked a lot throughout the day about how it was great to be able to relieve the torment and sadness of the owners while their beloved pets were in the vets'. For that day people could tweet pictures of their pets to SunLife and they would show them what pet they might get back. It was quite difficult to keep a straight face at times especially when Ian from SunLife who was doing the interviews with me said that they were looking into drone technology to drop the courtesy pets where they were needed. Just as well it was radio for that one because I was crying with laughter at the microphone next to him.
Anyway, good fun was had by all for this little bit of April Fools' mischief. You can watch their brilliant Courtesy Pet video if you have a few minutes and have a little chuckle.
As for me, well, work is manic at the moment. As well as my nutrition work I've just finished writing the Pet Detectives dog book and am now writing talks to do at the London Pet Show on the 7th and 8th of May. I'll be doing a talk in the kids' zone on both afternoons which I'm really looking forward to. Kids can change the world! If you miss the talks we've got a stand in the kids' zone too so come along and have a chat or get a book signed if you fancy it. I'll also be doing a talk about cat behaviour, stress-related diseases and how food and feeding habits can help keep your cats happy.
Hope to see you there!
Em